Reserve and Renew is the LIS Mental Health zine, exploring the intersection of mental health, mental illness, and the library and archives community. Check out zinelibraries.info for a primer on the zine movement and tips for making your own content!
Find ordering information for issues 1-3 of Reserve and Renew at this page.
Submissions for issue 4
The LIS Mental Health Zine is back and we've all got plenty to talk about: issue 4 of "Reserve and Renew" will be "The Plague Year" issue. We are accepting submissions until **December 31, 2020**.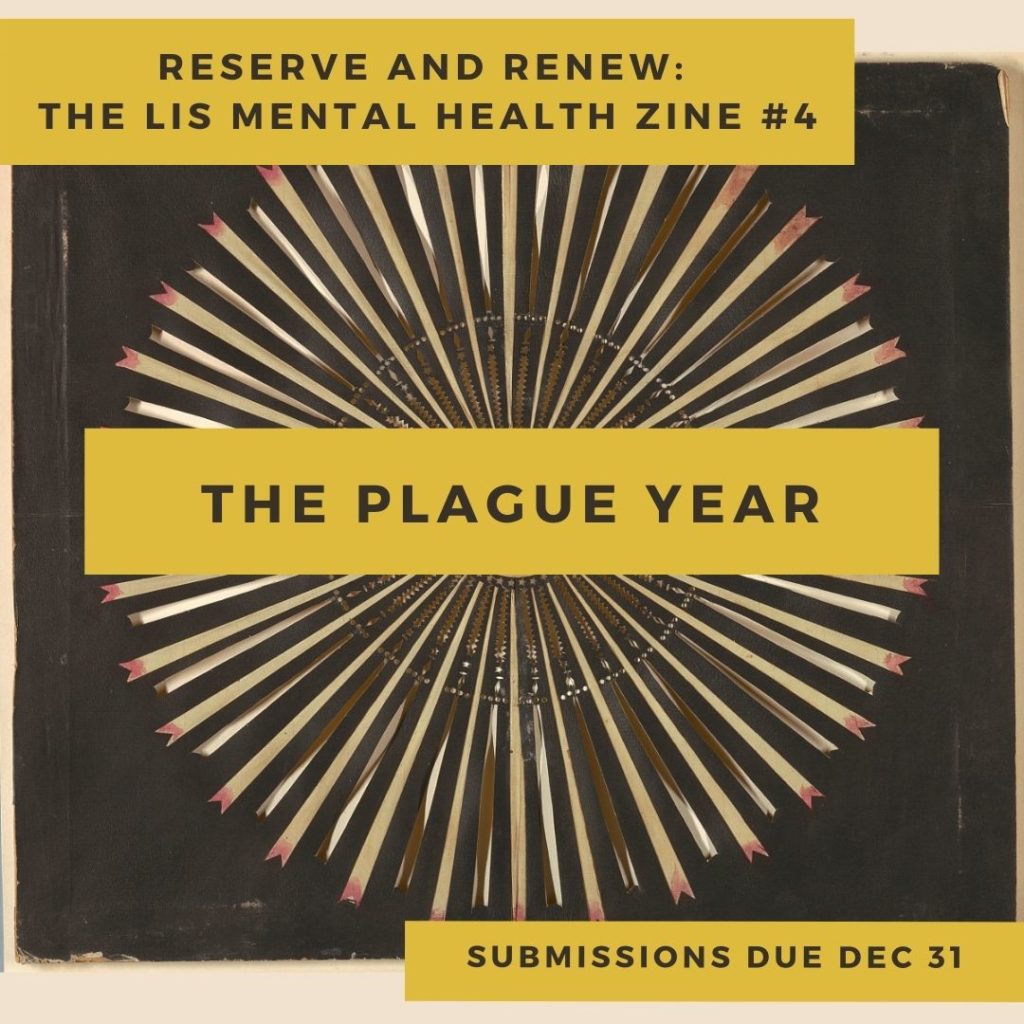 Contributions are welcome from anyone involved in "big tent" librarianship, archives, or museums: if you work or volunteer in a library or archive or museum (currently or formerly), if you're working towards a library degree, or are otherwise involved in library or GLAM-related work, we want to hear from you.
Submissions might include:
personal narratives
creative writing and poetry
visual arts (drawing, painting, photography, collage, comics, digital art, photographs of embroidery, etc.)
encouraging thoughts
tips for coping and radical self-care practices
consideration of the effects of capitalism and oppression on mental health
calls for changes in how we think about mental health & wellness
All profits will be donated to Mental Health First Aid, a public education program that aims to help communities understand mental illnesses, seek timely intervention, and save lives. This year's editorial team consists of Nicole Gustavsen, Abigail Phillips, Liz Chenevey, Annie Pho, Kate Deibel, Kelly McElroy, and Violet Fox.
Written works should be no longer than 500 words. Anonymous contributions are welcomed. Contributions will be published under a Creative Commons Attribution-NonCommercial license (CC BY-NC 4.0).
Find the submission form below or at this link: https://tinyurl.com/reserveandrenew4
.